German Art: Expressionism to Bauhaus
Event Details
Date:
On Demand
Location:
Online
Price:
Course Registration $40.00 Members
$50.00 General Admission


In this recorded webinar, Sabine Wilson, Ph.D., AAA will present an
overview of the markets for paintings, drawings and prints by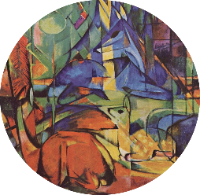 the movements of Blaue Reiter (Kandinsky, Münter, Marc,
Macke, Jawlensky), Brücke (Kirchner, Müller, Schmidt-Rottluff,
Heckel), Neue Sachlichkeit (Grozs, Dix, Kollwitz),
and Bauhaus (Albers, Schlemmer).
The following will be addressed:
How has the market for German Expressionism, New Objectivity and Bauhaus changed?
Where is the market for low, mid and high value works?
What is in demand within the oeuvre of particular artists?
This is a recording of a webinar held on April 21, 2020.
2 CE Credits
Fees (On-Demand):
$40 Members
$50 General Admission
If you are unable to attend the live webinar,
a recording will be sent to you afterwards.
Register online (at the top of this page)
or by calling 212.889.5404 x 11.
Email confirmations will be sent upon receipt of payment;
registration accepted only with payment.
No refunds.
---
Sabine Wilson, Ph.D., AAA received her doctorate degree in art history

from the Ludwig–Maximilians-Universität, Munich, Germany. Since 2000, Sabine has had an independent fine art appraisal and advisory practice in New York where she advises clients on issues concerning valuation, provenance, and collecting of impressionist, modern, and contemporary art. She gives lectures and publishes on art forgery, German art between the wars, and French 18th century art. Ms. Wilson is a Certified Member and serves on the Board of Directors of the Appraisers Association. She is also a Board-Certified Instructor of Uniform Standards of Professional Appraisal Practice and an Adjunct Instructor at New York University's School of Professional Studies.
---
Terms of Registration
By registering for this lecture you acknowledge that the content of this program will be captured in digital format and may be used for both archival and promotional purposes. Submission of your registration authorizes The Appraisers Association of America, its contractors and sponsors permission to use your voice and/or image in any such archival or promotional recording, photograph or streaming activity and to contact you by mail or e-mail.
---
Go back
Upcoming Events