African American Fine Art
Event Details
Date:
On Demand
Location:
Online
Price:
Course Registration $10.00 Members
$20.00 General Admission


In this webinar, Nigel Freeman, Swann Auction Galleries, will discuss
how the current auction market is changing the valuation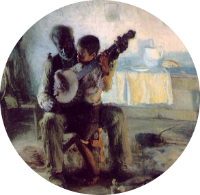 of African-American Fine Art. This lecture will provide a
look into how recent market changes have affected
valuations of African-American artists in the American,
modern, postwar and contemporary markets: from
Henry Ossawa Tanner to Faith Ringgold

Speaker: Nigel Freeman, Director, African American
Fine Art Department, Swann Auction Galleries
This is a recording of a previously held live webinar from the 2019-2020 Lecture Series, held on May 4, 2020.

1.5 CE credits
Sponsored by:

FEES
Free Associate and Student Members RSVP required
$10 Members
$20 General Admission
If you have previously registered for this lecture or the full series,
you do not need to re-submit payment or registration information.

Register online (at the top of this page).
Registration is accepted only with payment. NO REFUNDS.
---
Nigel Freeman is the director of the African-American Fine Art

department at Swann Auction Galleries. He founded the department in the fall of 2006, and since then has set numerous auction records for important African-American artists, including John Biggers, Elizabeth Catlett, Beauford Delaney, Sargent Johnson, Hughie Lee-Smith, Faith Ringgold and Carrie Mae Weems. Many were the result of significant institutional purchases. The department has also held the single-owner auctions of the estate of Dr. Maya Angelou and the collections of the Golden State Mutual Life Insurance Company and the Johnson Publishing Company, Swann's first white glove auction. Swann is the only major auction house with a department dedicated to African-American Fine Art.

Outside of Swann, Nigel is a print appraiser on the PBS television show Antiques Roadshow. He has lectured on the subject of African-American art at the Detroit Institute of Arts, the Rhode Island School of Design Museum, the Studio Museum in Harlem and the South Side Community Art Center in Chicago. He has also been interviewed by such magazines as The New Yorker, The Wall Street Journal, Art+Auction, Art and Antiques, The Art Newspaper and on the BBC and National Public Radio.

Nigel entered the auction world in 1997 with a background in fine art as a painter and printmaker after earning a Master of Fine Arts degree from Columbia University in 1991, and a Bachelor of Arts degree in History and Art from Brown University in 1989. Previously, Nigel was the associate director of Swann's Prints & Drawings department.
---
Terms of Registration
By registering for this lecture you acknowledge that the content of this program will be captured in digital format and may be used for both archival and promotional purposes. Submission of your registration authorizes The Appraisers Association of America, its contractors and sponsors permission to use your voice and/or image in any such archival or promotional recording, photograph or streaming activity and to contact you by mail or e-mail.
---
Go back
Upcoming Events