Appraising Public Art: When, Why & How
Event Details
Date:
On Demand
Location:
Online
Price:
Course Registration $40.00 Members
$50.00 General Admission


Join Susan McDonough, AAA, McDonough Fine Art Appraisals, and Jenn Doyle Crane, Project Manager for the Civic Art Collection and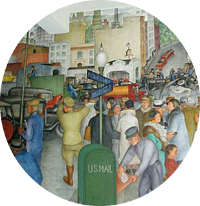 Public Art Program of San Francisco, for a Q&A and presentation about methodologies and best practices for the appraisal of public art.
Topics covered will include:
• When do municipalities need an independent appraisal of public art in their collection?
• How do appraisals of public art differ from other types of appraisals?
• What type of analysis and information should be included in the report? • How to identify comparables and valuation approaches?
• Understanding issues surrounding site specificity, art historical context, and community engagement
This is a recording of a previously held live webinar.
1 CE Credit
Fees (On-Demand):
$40 Members
$50 General Admission
Register online (at the top of this page)
or by calling 212.889.5404 x 11.
Email confirmations will be sent upon receipt of payment; No refunds.
---
Jenn Doyle Crane is the Project Manager for the Civic Art Collection

and Public Art Program of San Francisco, which consists of over 5,000 artworks, including public monuments and murals, contemporary public art installations, paintings, works on paper, ceramics and jewelry.
A curator and program manager, Jenn has extensive experience in the planning, fabrication, installation and conservation of large-scale public art installations. She has implemented institutional and private collection management procedures for the Guggenheim, the Brooklyn Museum, and a number of prominent Bay Area private fine art collections. She is the recipient of the City of San Francisco's Data and Innovation Award for her work in developing specialized software that provides fiscal projections for the long-term conservation and maintenance of art collections.
Jenn is also the co-founder and a director of AweLab, a fine art consultancy that collaborates with artists, architects and designers to create public programs and art exhibitions that explore how artists employ the concept of "awe" to inspire a community-centered approach to life.
Susan McDonough, AAA, is an appraiser based in San Francisco. Her

firm, McDonough Fine Art Appraisals, has particular expertise in the valuation of site-specific and installation-based work, murals, archives, and the art of California.
Susan is certified in both Postwar, Contemporary & Emerging Art and Accredited in Impressionist & Modern Art. She is a member of the Board of Directors of the Appraisers Association and teaches the Business of Appraising in the Association's CASP program.
A graduate of Columbia University, Susan has over 20 years of work experience in the visual arts.
---
Go back
Upcoming Events