Authenticating and Valuing Yixing Stoneware
Event Details
Date:
On Demand
Location:
Online
Price:
Course Registration $10.00 Members
$10.00 General Admission


In this presentation, three renowned Yixing specialists join in a discussion of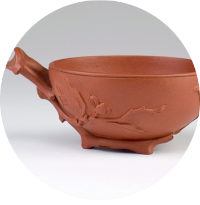 current topics surrounding the valuation and identification of Yixing Stoneware. Laurie Barnes, Curator of Chinese Art, Norton Museum of Art, Terese Tse Bartholomew, Curator Emeritus Asian Art Museum of San Francisco, and Louise Hsu Anderson, Honorary Ambassador for the Yixing Ceramics Society and Collections Advisor join Lark Mason, Jr., AAA in presentations about the market for Yixing wares, followed by a panel discussion.
This is a recording of a previously held webinar.

1 CE Credit
Fees:
$10 Members and General Admission
Register online (at the top of this page)
or by calling 212.889.5404 x 11.
Email confirmations will be sent upon receipt of payment;
registration accepted only with payment.
No refunds.
Image: Peach-Form Cup, 1700-1722, 1 5/8 × 4 1/2 × 3 in diam. Image courtesy of the Loyd Crawley Trust
---
Louise Hsu Anderson was born in Shanghai, China and educated in US. She is co- founder and managing director of The World Treasure Trading Company,

located in Santa Rosa, California. During her first visit to Yixing, China in 1986, Louise fell in love with the charming, graceful teapots which are famously produced there. Over the next decade, Louise was instrumental in introducing lovely functional Yixing teapots to the United States. Over a ten year period, 1991-2000, Louise curated a series of teapot shows "The Living Tradition, Yixing Teapots" at the renowned Garth Clark Gallery of Ceramic Art in New York City. Featured were works of famous craft masters with an emphasis on innovative contemporary design. Featured works have been selected for the permanent collections of such well known institutions as The Sackler Gallery (Smithsonian), Museum of Fine Arts, Houston, Rhode Island School of Design, Nelson-Atkins Museum, Asian Art Museum (San Francisco), Newark Museum of Art, The Cooper –Hewitt Museum, and others. Louise has been a speaker at numerous events and has been named an honorary "Ambassador" by the Yixing Ceramic Society for her work in advancing knowledge of contemporary Yixing Teaware in the West.
Laurie Barnes is Elizabeth B. McGraw Curator of Chinese Art at the Norton

Museum of Art (2006-present). From 2006-2029, Ms. Barnes has organized: over 50 thematic rotations in the Chinese galleries and the re-installations of masterworks from the Norton's Chinese collection (2017 and 2019). Special exhibitions included of High Tea: Glorious Manifestations East and West (2015), Channeling Immortality: Chinese Scholars' Rocks (2018), Good Fortune to All (2019), Divine Beings (2020). Two traveling exhibitions have dealt with the impact of exported Asian ceramics: On the Silk Road and the High Seas: Chinese Ceramics Culture and Commerce (2011) and Silk Road to Clipper Ship: Trade, Changing Markets and East Asian Ceramics (2005).
Ms. Barnes specializes in Chinese imperial porcelain of the 14th and 15th centuries. She contributed to the following publications: the Yuan dynasty to the Yale University and Beijing Foreign Languages Press volume entitled Chinese Ceramics: From the Paleolithic Period through the Qing Dynasty (2010), the exhibition catalog Royal Taste: The Art of Princely Courts in Fifteenth-Century China (2015), an article on the Norton's new Chinese Galleries ( Orientations magazine, November -December 2018), and an updated entry on the Ming dynasty calligrapher Zhu Yunming (1460-1525, Grove Dictionary of Art online, forthcoming). During her long friendship with the Jingdezhen Institute of Ceramic Archaeology in China, she raised funds for and headed the establishment of the first conservation laboratory at the site of the Chinese imperial kilns, as well as translating research on some of their most important finds, including an article in Orientations magazine (September 1995).
Terese Tse Bartholomew is Curator Emeritus of Himalayan Art and Chinese

Decorative Art at the Asian Art Museum of San Francisco. She had curated many exhibitions at the Asian Art Museum and has published in the fields of Chinese, Himalayan, and Indian Art.
Lark Mason is a Certified Member of the Appraisers Association and the

President of the Board of Directors. He is a renowned expert in Chinese art and antiquities. He is also an author, appraiser, independent curator, educator, and art consultant. He worked with Sotheby's, New York, from 1979-2003, where he was an appraiser, Senior Vice President in the Chinese Works of Art Department, and Director of Online Auctions. At Sotheby's, he evaluated collections including those of The Duke and Duchess of Windsor, Jacqueline Kennedy Onassis, and many others. In 2003, he left Sotheby's to start iGavelauctions.com, an international art auction company with regional associates in most major metropolitan areas of the United States, Europe, and Asia. He is an Adjunct Instructor at New York University's School of Professional Studies; he has also taught at the New York School of Interior Design, Parsons, and EmoryUniversity. Since 1996, Lark has regularly appeared on the PBS series, Antiques Roadshow, where he specializes in Asian works of art; he has also appeared on Strange Inheritance on the Fox Business Channel, Good Morning America, and on many other major media networks.
---
Go back
Upcoming Events